Micro Reviews: When Ya Got Something to Say but It Ain't a Lot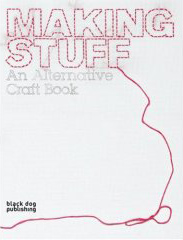 Making Stuff: An Alternative Craft Book
by Ziggy Hanaor
reviewed by Renée Rigdon

The AntiCraft Staff is not one of simplicity. We are complicated girls and we enjoy challenging, multimedia projects. Rarely does a craft book come out that interests us, because, well, the projects tend to be boringly simple. Yes, even when they have skulls, we get bored by boring techniques. That said, we can be swayed.

Making Stuff is full of simple projects, but they rock. Among the best projects are the Steiner Dolls by Sooz Fry, a painfully cute Hedgehog puppet by Tratincica Slavicek, the hipster PDA by Susan Rowe Hanson, the ultra industrial Puppet Junkie by Seif al'Hasani, Renee's personal favorite, the Gin Binger's Booze Cosy by Victoria Woodcock, Clarity Miller's Jumper Monkeys, Victoria Woodcocks Car Boot Cake Stand, the Papercut Necklace by Rob Ryan (can you say fun with knives?), Amanda Kay's Papier Mache Jewelry, the Sew Pretty Pinny by Ruth Singer, and the Ra Ra apron by Lovelylovely. But really? There wasn't much in there that we wouldn't want to make. We can hardly think of a time when the list of projects was so long that we would even consider doing.

And yes, though we listed about five billions project examples above, there are even more in the book, and almost all of them are worth more than a cursory glance.

If you get a chance to take a look at this book, please do. It will be a wonderful resource for those, "What the hell do I do with this day since I lost my job for photoshopping my boss into compromising, knitting-related pornography?" days, and the possibilities for modifications on many of the projects are near endless, a plus for any true AntiCrafter.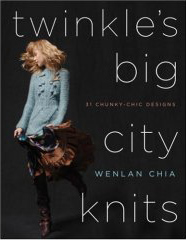 Twinkle's Big City Knits: 31 Chunky-Chic Designs
by Wenlan Chia
reviewed by Renée Rigdon

Let it be said, before the tirade begins, that the patterns in this book are well constructed, and attractive. They don't all have the überchunky look that some chunky books have created. Typically, Renée and Zabet avoid chunky knits, because, well, they just aren't flattering on bigger girls. When Renée began flipping through this book, she was impressed to find there were a few sweaters that she would have enjoyed making. Yes, you read that right, would have. And here's why:

The sizing in this book is freaking horrible. Our very smallest friend—who can often be seen photographed on our site—is fat if you take the sizing standards of Twinkle as what is normal. The loose-fitting sweater that Renée desired most of all (the Karate sweater) has a finished bust measurement of 33". To fit anyone we know loosely, Renée's four year old son would have to wear it. Maybe. Sure, she could modify the pattern to fit, and would have if the sizes gone up at least to a 40", but at 33", it's really not worth the effort. The simple fact of the matter is it's not that hard to resize patterns, and someone connected with this book should have taken the effort to make sizes that fit at least average sized women. We realize as plus-sized girls that many patterns are not going to be sized to fit us, and we've accepted that, but patterns should fit reasonably sized women as well, not just models with good genes.

Bottom line? Decent designs, but not worth the list price unless you are the Corpse Bride herself, or really enjoy recalculating sweater patterns for size and gauge changes.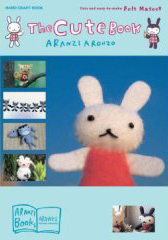 The Cute Book
by Aranzi Aronzo
reviewed by Zabet Stewart

Oh unser Gott. Do you see that bunny? That cute, fluffy bunny on the cover of the book? We want it dead. We want to cut out a little felt gun for its fuzzy armstub to hold, and embroider a large and bloody wound in its forehead so that it will stop smiling that insipid little smile right. this. minute.

That said, what could we really expect from something called The Cute Book? If we were surprised, it must be chalked up to our own stupidity. It's right there in pink and white: The Cute Book. It's full of 19 easy-to-make felt stuffies that are so cute you will want to stab things. (We recommend stabbing the stuffie you make, à la Bad Juju, or prehaps yourself in punishment for being suckered into buying this book and being pressured into making a stuffie.)

AntiCraft-Approved projects (in case you you fall under it's deadly Cute spell): Black Sheep, Bad Guy, Liar, Ailen, Mechani-Panda, and the Kidnapper.

We can't wait to get our hands on a copy of The Bad Book in the meanwhile.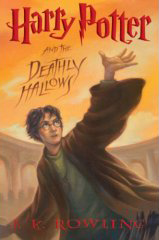 Harry Potter and the Deathly Hallows
by J. K. Rowling
reviewed by Zabet Stewart

The long-anticipated climax to the Harry Potter series brings the reader full circle. Finally, things in past books begin to make sense, like Ron's awkwardness with girls. When it turns out Hermione is actually a guy, Ron can finally relax and stop living a lie. Of course, this boy-boy action is completely eclipsed by Harry's own clumsy death at the hands of Voldemort's new-and-improved DeathEaterBots. (Humans, giants, and dementors are so fickle; magjicked-up robots are much more reliable.)

It's the finest literary bloodbath since they didn't make a book about the movie Reservoir Dogs. Zabet and her husband stayed up all weekend reading chapters to each other, because they are losers like that. We can only pray the rest of you AntiCrafters had more sense.