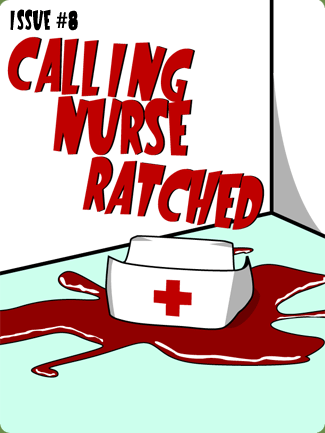 art by Zabet Stewart
If anyone is interested in what the hell we're doing, this would be the thing to read.
Micro Reviews: Twinkle's Big City Knits, Making Stuff, The Cute Book, and Harry Potter and the Deathly Hallows
Twinkle, twinkle, little star, how we wonder what size you are...
Project Details
Click here for definitions of difficulty levels.

End of Days Kit
Rrrrgh . . . . Brains . . . .
If the end is nigh, be prepared for the apocalypse now.

Painted Lady
Strong Intermediate
Stash busting knitted sweater with a SE Asian Indian sense of modesty.

Anarchist's Nightlight
Rrrrgh . . . . Brains . . . .
Because anarchy never sleeps!

Vertigo
Strong Intermediate
A felted purse with a hypnotic motif.
(Notice how easy it is to avoid to words "hip" and "funky" here. We think other craft zines should follow this lead.)

Barely Concealed Rage: A Breakfast Tray
Boy Scout Burnout
When the one you love is also the one you loathe, say it with breakfast in bed.

Skull Lariat
Rrrrgh . . . . Beads . . . .
Simple, elegant pretention. You know you like it.

ODOB
Boy Scout Dropout
Sure, it's nonsensical. But it's also damn useful.

Surprise: Aw, Crap
Boy Scout Dropout
As in, "Aw, crap, the September Surprise is late!"