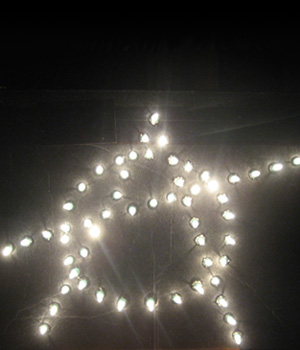 Renée Rigdon (photo)
Anarchist's Nightlight
It has lights.
Bright lights.
Brighter that bright.
In the night.
The lights.
Are bright.

And dangerous.
Because this might be a fire hazard.
We donít know.
Suggested Plotting
Steal This Book by Abbie Hoffmen
Difficulty
Rrrrgh . . . . Brains . . . .
Click here for definitions of difficulty levels.
Finished Measurements
15.5" x 12.5"
Materials
15.5"x12.5" USPS Express shipping box, or desired size box
Black spray paint (it looks silver, we swear it's black)
100ct string of clear patio lights, or smaller string if working with a smaller design
US 5 knitting needle
Sharpened pencil
Two sheets of 8.5" x 11" paper
Low tack tape
Project Notes
ACHTUNG: This project may not be very safe, as we donít know how hot the lights inside the box will get. It looks awesome, so hopefully you wonít be tempted to leave it unattended anyway.
Directions
1. In a well-ventilated area (preferably outside), fully spray paint the box, and let dry. You may need to apply two coats; it's up to you.

2. Tape two sheets of paper together, then sketch your desired design onto the paper.

3. Mark points at 1"` intervals where you will be placing holes through the paper and box.

4. Tape your sketched design to the box.

5. Starting with the knitting needle, poke holes at the marked points on the paper through the box.

6. Remove paper and enlarge holes with the pencil.

7. Working from inside the box, push a patio light through each hole, storing the excess lights in the box itself.

8. Tape box shut, leaving enough cord outside the box to attach to the wall outlet or an extension cord.
About