Micro Reviews: When Ya Got Something to Say but It Ain't a Lot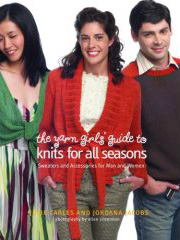 The Yarn Girls' Guide to Knits for All Seasons: Sweaters and Accessories for Men and Women
by Julie Carles and Jordana Jacobs
reviewed by Renée Rigdon
Before I begin, let me state the obvious for those of you who are not regular AntiCraft readers. I don't like the basics, and thusly came to this book with a bias. Everything in the book is made in a thicker yarn and/or a looser gauge than I would personally have deemed appropriate, and shaping is near-nonexistent on the sweaters. Add to this the bias I have against Yarn Girls' Guide to Simple Knits—a friend attempted a sweater from that book and it was bad. Not her fault. It was just bad.—and I am coming from a hard place to review this book objectively.

That said, as I flipped through the book, I found myself saying, "Well, if you changed the color and gauge, added a bit of shaping, and a detail right about here . . . I would wear it." I said this a few times, until I reached Fall. (The book is divided by season.)

Fall, my friends, is my favorite season, and the winning chapter of this book. When I reached Fall, I began turning down corners on a few patterns because I liked them, and not just because the models had a particularly hilarious look on their faces. (But seriously, you could make a drinking game out of every time a model in this book looks like he/she is screaming, "What the fuck!" in their heads.) Back on topic. The raglan with button band detail—"a bit out of the box" it is called—I would make. Yes, I would add some waist shaping, and the construction of the garment, as well as the color, button choice, and a few other minor things, but I would basically construct the same sweater. This, folks, rarely happens with me and a knitting pattern. Same thing with "the fashionista" sweater.

Unfortunately, things drop back off in Winter, where they actually have one sweater called, "it's the thought that counts." Don't people only say that when the object presented is bad? With a sweater that gets 7 stitches over 4 inches, I suppose bad has happened.

Final verdict: This book will be a great source of inspiration, but you may want to know how to alter patterns before picking it up.
The Knitter's Book of Yarn: The Ultimate Guide to Choosing, Using, and Enjoying Yarn
by Clara Parkes
reviewed by Zabet Stewart
First, let me congratulate whomever made the decision to include a comma before the word "and" in the subtitle. Yes, I'm one of those people who think a comma should be used when making a list before the final "and [item]". This, combined with a clean (and orange-heavy) cover design, would be enough to make me pick the book up off the shelf, had I been in a bookstore and not the lucky recipient of a review copy. (Imagine my delight when I shed the dust jacket as I always do, because I only end up ruining them, to find an entirely orange book beneath!)

I skipped the blurbs on the back cover because I didn't want to go into the book with any biases, no matter how much praise Ms. Pearl-McPhee has for it. (Which is lots, actually, as I did read the blurbs later.) I poured a cuppa, got a some shortbread, and settled in my orange armchair and began to read.

In the beginning, there were the four kingdoms: Protein, Cellulose, Cellulosic, and Synthetic. All yarns come from fibers, which have to come from somewhere. The first section of the book gives the origins stories for each family of yarn as well as lengthy discussion of its characteristics. This is the brainy section of the book, where you learn fun factoids to drop at cocktail parties and find insights as to why your past projects where you substituted yarns have turned out so crappily.

And the kingdoms did discharge yarn. The second section follows the fiber as it is sent to be processed. Types of dye are covered, including organics, and dyeing methods such as the difference between dying fiber in the fleece vs. in the skein. Finally, spinning is discussed in an easy-to-understand way (while there is a large crossover between crafters who use yarn and spinners, the two groups are not mutually interchangeable - spinning virgins need not fear pricking their finger and losing consciousness during this section). I found this section seductive, mainly because I am easily distracted and there were many gorgeous photos of yarn pr0n. I learned things, but mostly it made me want to sneak upstairs and fondle my stash in private.

And the yarn was Good, making many projects for all to enjoy. The final, and largest, section of the book covers the practical, hands-on stuff. It's the brawn. Patterns designed specifically for certain types of yarns (e.g., single-ply, four-ply, brushed, bouclé, etc.) are presented for the sole purpose of teaching you how to use each kind of yarn to its best advantage. Now, none of the patterns are AntiCraftastic per se, but none of them are flat-out bad, either. (Ok, I wasn't a fan of the cat toys until I realized they were cat toys and probably not meant to be particularly lifelike ocean fauna.) But they are mean to be learning exercises as well as knitted items, and at any rate I am confident that you all will be able to take any pattern offered and make it your own. If you can't, give me a call and I'll send someone over to break your legs. That should get the creative juices flowing.

I am loathe to use the term yarn whispering, but it really is the most accurate term for what this book aims to teach you. Clara writes well, keeps it interesting, and is thorough. And though the book is geared towards knitters, it will benefit anyone who works with yarn. In short, I'm pleased to add this book to my reference library. The orange-ness is just a bonus.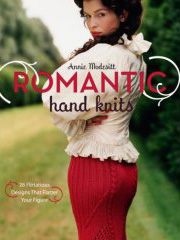 Romantic Hand Knits: 26 Flirtatious Designs That Flatter Your Figure
by Annie Modesitt
reviewed by Renée Rigdon
This has nothing to do with the book I am reviewing: To be sexy, a knitted garment does not need to have ten inches of negative ease, and I don't care how many of you wrote me about the Twinkle review to say otherwise. That much negative ease don't look good on most people. If it looks good on you, I really don't want to hear about it. Seriously.

And here's why that above rant matters: The sizing in Romantic Hand Knits is fair, many sweaters fitting up to a 50" bust. The patterns list not only the finished size of the garment, but the size of bust the garment was intended to fit. This is nice. When I first started knitting sweaters years ago, I often complained that this number wasn't there, because it isn't always easy to determine the amount of positive or negative ease a garment will need to turn us into the sexy sweater girls we all want to be.

The "Above the Waist" items covered the range from skimpy lacy things I can't wear in public (but found to be executed well, even if not for me) all the way to a full-coverage cardigan with lace cuffs, hem, and collar called, "The Heiress." I found the variety of what Modesitt deemed to be sexy to be refreshing. There is even a wrap sweater—"Charade"—that I think might not make me look like a lace-covered whale. There are other sweaters that I find to be less well-executed, like a surplice faux-cardigan, and a barely-on-the-shoulder top that I feel might have a hard time staying up in the cotton yarn used to execute it. In general, though, I could go on for hours about what I liked (with a color change here or there) and only thirty minutes or so about what horrified me.

The "Below the Waist" items are a bit more tricksy. I found most of them to be very pretty, and the sizing keeps its wide range, but I just can't imagine putting in the time to make a knitted skirt. I would forever be worried about the drape forming some weird bubble shape on my ass when I walked around, or just outright losing it in a public place when the weight of all that silk crashes down. That said, "An Affair to Remember" makes me want to try, and "West Side Story" is the exact concept I've had in my head for years, but I never quite got around to giving it a go. The dresses, in general, made me cringe. But there isn't a dress in this world that makes me look all that fabulous, so take that comment with a grain of salt.

And finally, we come to the accessories section. I first fell in love with Annie Modesitt because of her hats, and this book has two of them. I die in happiness for this. They look complicated and lovely, and I hope to give them a go soon.

Final Note: Annie Modesitt is an artist, and this shines through in her book. This means her work is gorgeous, but not always practical. Still, it is a gorgeous book with generous sizing, and a lot of the patterns could be made with little to no modification.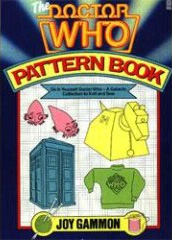 The Doctor Who Pattern Book: Do-It-Yourself Doctor Who—A Galactic Collection to Knit and Sew
by Joy Gammon
reviewed by Zabet Stewart
Published in 1984, just after my family's move to South Korea put an end to my and my father's Doctor Who-watching ways, this essential Whovian project book was unknown to me until two months ago. I found it while browsing on Amazon.com, and immediately plunked down my credit card for the privilege. Honestly, I've no idea how much it cost. It wasn't much, about $10, but I can't tell you for sure. I knew in my heart it was worth any price, and I found my heart was not wrong when it finally arrived on my doorstep.

The book, with BBC stamp of approval, contains knitting and sewing projects ranging from the ubiquitous Tom Baker (the 4th Doctor) scarf (aka The Scarf) to a Tardis sleeping bag. I'll be blunt: the clothing options are bad. Painfully bad. Bleach-your-eyeballs bad. But then, this is clothing inspired by a low-budget, early 80s, BBC sci-fi production. Would you expect any less? Ignore them and skip to the Doctor Who logo charts, the plushie K-9, and the knitted baddie hand puppets.

My only true gripe for the book (other than the bibbletastic clothing) is that it was published in that "let's put all the color photos together in one section on special paper" way. This in itself wouldn't have been quite so bad if they had, say, LABLED each photo letting you know what it was supposed to be and on what page the instructions could be found. Get familiar with the table of contents right off and save yourself some hassle. Otherwise, break out your sonic screwdrivers and start craftin'.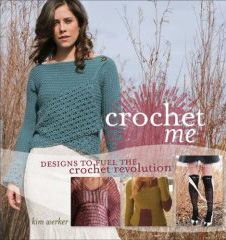 Crochet Me: Designs to Fuel the Crochet Revolution
by Kim Werker
reviewed by Renée Rigdon
Here at The AntiCraft we get a lot of emails from crocheters asking us to modify patterns to work for crochet. A lot of emails. And if we respond (we're bad about that) we always say, "Do it and we'll post it." No one has taken us up on the offer. This has gone on to the point that I've assumed there isn't much to be done with crochet beyond amigurumi and granny squares. Crochet Me shows me there is more to crochet than these two things, and I am, for the most part, impressed. As none of the sweaters are designed to fit my... ample luscious goodness, I am impressed most with the accessories. Especially, I must say, the thigh highs, which are absolutely gorgeous and make me want to run out and pick up Cascade Fixation, a yarn I had previously written off as a horrible waste of my time. Overall, the book has great instructions, and some great projects, I just would have liked to see sizes for the sweaters go up into finished measurements up to 50 inches, to allow for some ease for we, the bigger girls. Maybe I should write an email asking them to do it for me... just kidding, I love the crocheters of the world.