Currently Taking Residence in the Freebie Box:
Fiction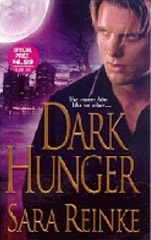 Dark Hunger (The Brethren Series, Book 2)
by Sara Reinke
reviewed by Zabet Stewart
If you will remember, I reviewed Book 1 of the Brethren series last time. Book 2 further chronicles the (mis?)adventures of the escaped Noble vampires, focusing this time on the hero's sister and the heroine's former police partner. So, rather than interracial, interspecies, Deaf and Hearing sex, we have pregnant vampire with a half-vampire amputee sex. I must admit, I'm wondering if homosexual werewolf Little People and/or donkeys will feature next time around, but the mere fact that I've been led to wonder about that is part of the story's charm. At the very least I expect some vampiress-in-high-heels stepping on grapes as a prelude to intimacy.

This weak spot in this story is how long it takes for our new (amputee) hero and (pregnant vampire) heroine to realize they're in love. We all knew it since they first met and hated each other in Book 1, so slogging through the angst to get to the action (be it sex or violence) was a bit of a chore. Once the main plot is reasserted, however, it's a much more enjoyable read. There's a twist in the ending, so I hesitate to say more for fear of giving it away.

Dark Hunger is the second installment of The Brethren Series. Sara Reinke assures me there is a Book 3 in the making, and I'll let you know when I hear anything about a release date.