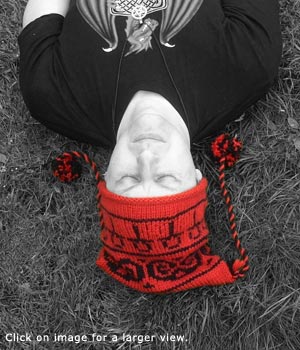 Beltane Flame
"Ankh The crux anima or looped cross, Egyptian Hieroglyph for 'life'. Widely used as an occult symbol of the Life Principle"

"Bealtaine, Bealtuinn, Beltane The May eve/May Day Great Sabbat. Original meaning 'Bel-Fire'...."

-Janet and Stewart Farrar
Suggested Reading
The Witches' Way: Principles, Rituals and Beliefs of Modern Witchcraft
by Janet and Stewart Farrar
ISBN 0709012934
Difficulty
Strong Intermediate
Click here for definitions of difficulty levels.
Finished Measurements
To fit adult head (20-22") but may stretch further than this. If you think you have a large head, knit on 5.5mm needles and use heavy worsted yarn but I have found this pattern to be very stretchy and fits Man or Woman.

To fit a baby head 0-6mths use DK and 3.75mm/4mm needles

It is also possible to get a few extra mm by adding more edge stitches either side of the charts.
Download
Ankh and Celtic Border Chart (pdf format)
Materials
Debbie Bliss Merino Aran [100% wool; 78m per 50g ball], color: (F) 700 Burnt Orange, 1 skein; (B) 300 Black, 1 skein
1 darning needle for sewing up and weaving in ends
2 bobbins (optional) for keeping two colours of yarn wound on separately
5mm straight knitting needles or size to obtain gauge
Gauge
17 sts x 23sts over 4 in (10cm)

This gauge was measured over the straight knitting before the Fairisle panel. Keep your yarns fairly loose at the back of the work but be warned that Fairisle can tend to knit up at a tighter gauge.
Pattern Notes
The hat is a large rectangle sewn together at sides and along the top then tied together with twisted cords or left to swing free.

You may use circulars to avoid having to break yarns or you may use a set of dpns and delete the edge stitches if you prefer to have no seam. I knitted this on straight needles although I would normally prefer double pointed needles.

On Fairisle Patterns:
Use bobbins to keep Flame and Black separate and twist colours at the back every few stitches in the Fairisle method. If you have never tried using colour in your knitting before this is a good pattern to try as there are only two colours to worry about but the result is quite effective.

NB: You may find that if you knit back and forth on straight needles, you will need to break the yarn where you are knitting one row in B (black) as you will find when you want to pick up your F (orange) yarn it is at the other end of the needle.

If you like knitting in the round, do this and cut out the edge stitches i.e. CO 80 stitches instead of 84 and just continue the Fairisle patterns all around

Whichever method you use, try to be relaxed and not pull yarns too tightly. However, if you get a crinkly appearance to your knitting DO NOT FRET my little knitters. It will all come out in the wash as my Mum used to say. She also said 'wool is workable' i.e., mistakes can be rectified so there is no harm in trying something and going for it.
Directions
Hat:
Download: ankh and celtic border chart (pdf format)
Using 5mm needles with yarn colour F and your preferred method cast on 84 stitches.
K 10 rows in F
K1 row B

Now work 10 Ankh Chart repeats (14 rows). If you're knitting on straight needles, you'll be starting on a WS row, so remember to purl the first row in the chart.

Next row P 1 row B
Knit 2 row F

Now work 4 Celtic Border Chart repeats (12 rows).

Knit 2 rows F
Knit 1 row Black

K6 more rows in F or continue until height of hat is at least 10 inches from cast on edge.

Cast off.
Making up and Finishing:
Join edges to make a central seam going down the back of the hat.
Join upper edges keeping the back seam central.

Now attach a twisted cord to each side of the hat (see instructions at end of pattern)

Do hand wash your hat at this stage and gently ease out the crinkles in the Fairisle knitting.

Dry flat with seam at centre back.

Get your priest to wear this on Beltane Eve. If you wear the headdress you'll achieve your perfect Yin Yang, Male/Female balance.
The AntiCraft does not claim to be able to balance your Yin and Yang. Please take Yin-Yang issues to the designer.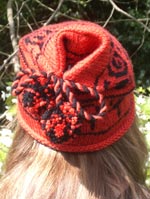 Making a Twisted Cord and/or Pompons:
Make two twisted cords as follows. Cut 3 lengths of Yarn B and 3 lengths of Yarn F about 3 ft. Tie ends of yarn together to make circle of yarn. Loop yarn over door handle, chair post, or chair leg. Insert a pencil, pen or dpn into loop at opposite end. Pull taught and twist yarn by spinning pencil/pen/dpn. Keep twisting until yarn is so tight it is almost pulling back on itself. Slide a finger half way along length of twisted yarn still keeping end taught. Fold yarn twist in half and put loop/pencil/pen/dpn together with loop over door handle (post or leg) Let go of finger holding halfway mark and allow yarn to twist on itself. Tie knots at the beginning and end of the cord to secure the twisted strands and cut below the knot to give it a small tassel. Take the whole length of the twisted cord and tie two more knots either side of the centre and cut between these knots so that you now have two twisted cords with knots each end to secure the strands. Attach one twisted cord to one of the top corners of the square hat and another twisted cord to the other top corner. These can be tied together into a knot or bow to make a round hat with the top corners folded in to look like an envelope or left to hang making the hat square.

Optional, add some fun and fluffy pompons to end of cords. I made mine by winding wool around 2 chair legs, then tying off in about 4 sections then cutting half way between two tied up sections either side of a tie and got two pompons immediately. Alternatively you can use the other method of winding wool around a donut shaped ring.

Tie up your hat with ties in a bow, or tie and leave your pompons dangling or just leave the whole thing hanging whichever you prefer.
About
contact Erssie • http://www.erssieknits.com • legal info