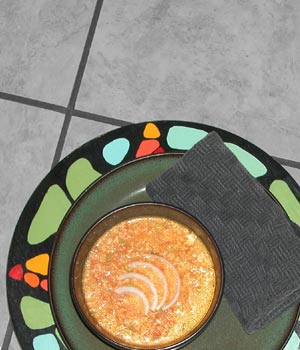 Comfort Food
updated 2/23/06
Great-Grandpa Wenceslas and Great-Grandma Maria came from Seville, Spain to Bejucal, Cuba. They had two sons and two daughters: Antonío, Jorge, Ernestina, and Amelia, who I knew as Amy, but everyone else called Beva. Grandma Amy was the youngest, born in Key West. Of all her suitors she picked my grandfather and began her life as a military wife. She gave birth to my aunts Rita and Linda, and my father James. My grandfather died when my father was still a boy, so I have never met him. Afterwards, Grandma Amy returned to Florida and began her life yet again, this time raising three children on her own. My mother and father both consider themselves Tampa natives, and though my father was also in the military, we had a Cuban glaze on our culinary life no matter where we lived. To this day, I find Cuban food to be the most comforting. This recipe is adds the comfort of a warm and hearty soup to one of my favorite Cuban dishes: Arroz con Pollo (Yellow Rice and Chicken). Serve it with a thick slice of buttered crusty Cuban bread, or nice baguette if you aren't lucky enough to have a Cuban bakery in your town.
Difficulty
Rrrrgh . . . . Brains . . . .
Click here for definitions of difficulty levels.
Recipe Notes
This makes a large stockpot of soup. You may want to halve the recipe unless you are feeding more than two people for dinner and lunch the next day. It freezes well, thankfully. Also, this makes soup with rice that has soaked up so much liquid the little grains have exploded. If you can't stand disintegrating rice, cut 2 cups of liquid and add the uncooked rice about 30 minutes before you want to serve the soup. The two ingredients you may have trouble finding are sofrito and Vigo seasoning, but any Spanish/Mexican market worth their salt should carry them. I've included links to ordering online as well.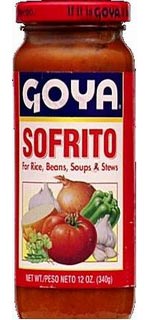 Ingredients
1 pound of cooked and cubed boneless chicken.
(I brown chicken tenderloins.)
olive oil or butter for sauteing and/or browning
(Butter when I'm bad, olive oil when I'm healthy.)
2 large yellow onions, chopped
2 medium-large green peppers, chopped
3 cloves of garlic, minced
1 can of diced tomatoes, 28 oz
2 cups uncooked long grain white rice
2 tablespoons sofrito (I like Goya brand sofrito)
1 envelope Vigo Flavoring and Coloring
2 large or 3 small bay leaves
8 cups of water, divided
2 boxes of organic, low sodium chicken broth, 32 oz each
1 can of peas, 8.5 oz (I like LeSeur early peas)
1 teaspoon of black pepper or to taste
3 - 4 teaspoons of salt
Directions
In a large stockpot over medium to medium-high heat, sweat onion, green pepper, and garlic until onion is clear - about 4 minutes

Add chicken, tomatoes, 4 cups of water, Vigo seasoning, sofrito, and bay leaves. Increase heat to medium-high and bring to a boil. Add rice and stir well. Cover, reduce heat to low or medium-low, and simmer for 30 minutes.

Next add the two boxes of low sodium chicken broth and the remaining 4 cups of water. Drain the can of peas and add it to the pot. Stir well and break up any clumps of rice. Add the pepper and 2 teaspoons of salt and taste it - it probably won't be salty enough for you yet. Bring to a simmer, and add 1/4 teaspoon of salt at a time to taste, letting the soup simmer 10 minutes in between saltings to let the flavors develop. Simmer soup for about 1 hour total after adding the chicken broth, or until rice is completely swollen and mushy. Stir often (every 10 minutes) to keep chicken and rice from settling to the bottom - that's when burning happens.

Garnish and serve it pretty to guests, or just ladle yourself a mugful and sip slowly.
About