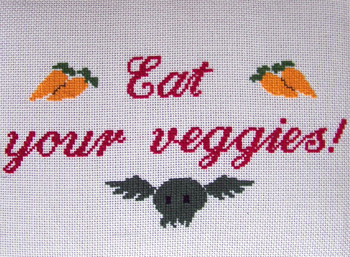 Christina Lohmeyer (photo)
Cthulhu Sez...
Sitting in my rocking chair beside the fireplace, stitching my "What would Cthulu do?" bracelets, I had an epiphany:

There was Cthulhu sitting on a throne made of vegetables, the sun shining on his mighty head. A crowd of carrots danced around him and sang the loveliest chorales you could imagine. A bunch of leeks and broccoli flew above his head and chirped.

Then, Cthulhu spoke to me: munch, munch...."eat your veggies".....munch

A piercing MEOW detained me from inquiring what he meant—the cat's tail had gotten under the rocking chair.
Suggested Listening
"Captain Vegetable" by Sesame Street
Difficulty
Rrrrgh . . . . Brains . . . .
Click here for definitions of difficulty levels.
Finished Measurements
7.5"/19cm x 5.7"/14.4cm, framed
Download
Cthulhu Sez... Chart (PDF format)
Materials
22 count Aida cloth
Madeira Stranded Silk embroidery floss in:

0511 (red)
514 (grey-green)
2400 (black)
0114 (orange)
1305 (green)

Appropriate embroidery needle
Embroidery hoop or frame
Design Notes
Substitute numbers for DMC floss colors: 304 (red), 520 (gray-green), 310 (black), 742 (orange), and 701 (green). Or you can change colors to your liking.

Credits to Sasa who wrote the cross stitch software for me.

Don't know how to do a certain stitch? Check out the Glossary of Techniques.

Need help choosing a needle? Read this guide.
Directions
Download Cthulu Sez... chart, above.

Mark the beginning of the text on your canvas. Leave enough space at the border for framing.

Place the canvas in your embroidery hoop or frame.

With blunt cross stitch needle, start stitching with cross stitches, switching colors according to the chart.

The carrots are separated with backstitch.

When you're done, hand wash it gently in cold water and iron flat. Frame it up, and hang it in your kitchen!
About
contact Christina: • legal info