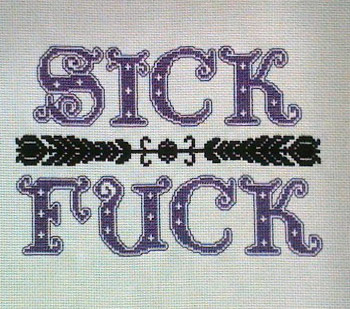 BeeFranck (photo)

Sick Fuck

I designed this cross stitch for a fellow stitcher, Valued Sony Customer. She once said that she got a real thrill when her partner called her a sick fuck, and that along with other things made me realize that she and I were kindred spirits.

Suggested Listening

"Down with the Sickness" by Richard Cheese and Lounge Against the Machine

Suggested Watching

Sybil (1976, unrated)

Difficulty

Rrrrgh . . . . Brains . . . .
Click here for definitions of difficulty levels.

Finished Measurements

4.5"/11.4cm x 7"/17.8cm

Download

Sick Fuck Chart (PDF format)

Materials
18 count Aida cloth
DMC 6-strand cotton embroidery floss in:

310 (black)
3834 (dark purple)

Appropriate embroidery needle
Embroidery hoop or frame
Design Notes
I used a font and pattern from the Antique Pattern Library when designing this, and I encourage you to go there and design your own patterns as well so you can say whatever is on your mind in stitch.

Don't know how to do a certain stitch? Check out the Glossary of Techniques.

Need help choosing a needle? Read this guide.
Directions
Decide how best to position your text on the canvas. Leave enough space at the border for framing.

With blunt cross stitch needle, start stitching with cross stitches, switching colors according to the chart.

When finished, outline letters with backstitch according to chart.

Hand wash it gently in cold water and iron flat, and it's ready to frame.
About
contact BeeFranck: • http://www.mrxstitch.com • legal info