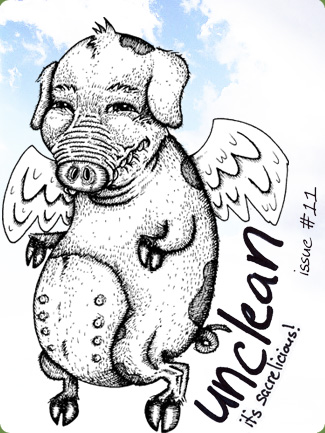 art by Philip Castlen
If anyone is interested in what the hell we're doing, this would be the thing to read.
Making Stuff For Kids and Stitch Grafitti. We have no pithy witticism about bowel movements for this issue.
Information: Our Friend, the Pig
More than you ever wanted to know, we're sure.
Literature: Pork Poet's Corner
Only bacon could inspire this kind of lyric verse.
Inspiration: Bacon + Teh Interwebs
More than a year ago a decision was made to do an issue centering on bacon. Along the way we've been encouraged, inspired, and disgusted by many things found on teh interwebs. We compile them for you here.
Project Details
Click here for definitions of difficulty levels.

Bacon of Hate
Boy Scout Dropout
Don't spend your time seething when your bacon can do it for you.

Baconiel
Rrrrgh . . . . Burns . . . .
And thus spake the Bacon Angel of the Lord.

Baconhenge
Rrrrgh . . . . Brains . . . .
What do you do with a hungry druid?

Oh, Canada!
Rrrrgh . . . . Brains . . . .
This name is more amusing if you know that, in Zabet's circle of friends, "Going to Canada" is slang for something that does not involve travel, though it usually involves meeting new people. You'll just have to settle for the regular level of amusement, then.

Pomme et Porc
Rolling In Her Grave
Rock and roll. Bonnie and Clyde. Lamb vindaloo and night sweats.
Some things just go together.

Speckschnittenlebkuchenhaus
AntiCraft Superstar
Points for being able to pronounce it, or if you can give us a more correct word.
Pork Princess
Burnin' Bacon
We read somewhere that every girl goes through a princess phase.

Vegan Wrapped in Bacon
Strong Intermediate
Also good for kinky cosplay if you ever wanted to pretend you were a small, fatty cut of meat during sex.
Surprise #1: Filet de Bling
Boy Scout Dropout
Like breakfast, but for your wrist.
Surprise #2: Bleary Morning
Rrrrgh . . . . Brains . . . .
Mornings are merciless.