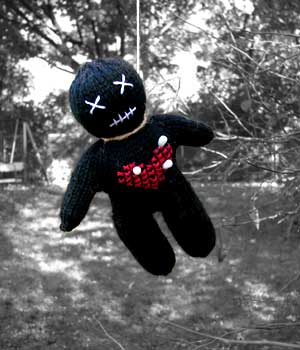 Bad Juju
They say hell hath no fury like a woman scorned, and rightly so.

Beauregard Lerouge was an ox of a man, broad across the chest and strong of will, but he wasn't a smart man. When he married the powerful voodoun Marie Méprisant, he married untruly and unfaithfully. After the birth of his daughter, he took up with the belle du jour, Kitty Devareaux, beginning an affair that could neither escape the prying eyes of the community, nor the notice of Marie.

Marie knitted effigies of the offending pair and set about exacting her revenge. In short order, Kitty lost her lustrous golden hair, developed sores on her flesh, and suffered a stroke leaving her paralyzed on her left side, the side of her treacherous heart. No longer the beautiful treasure she had been, Beauregard, nor any other man, had a use for her, and she languished in poverty the rest of her days. Kitty, however, was lucky compared to the adulterous Beauregard, who disappeared on his way home from the tavern on a moonless night and was never heard from again. It is said he was attacked by an alligator which brought his body to Marie, ripped to shreds. Denied an afterlife by the voodoun's spells, he lived on only as the secret ingredient in Marie's famous red beans and rice.
Difficulty
MoonPrincess RavenDark
Click here for definitions of difficulty levels.
Finished Measurements
Height: approximately 5"
Materials
Lion Brand Wool-Ease Worsted [80% acrylic, 20%wool, 197yd/180m per 3oz/85g ball]; 1 ball any color. (Example knit using black.)
One yard each of red and white embroidery floss or laceweight yarn.
Set of 4 US 3/3.25mm DPNs
3 stitch holders or waste yarn
smooth waste yarn for provisional cast on
2 stitch markers
tapestry needle
stuffing material (Example uses polyester fiberfill stuffing.)
Gauge
30 sts and 36 rows per 4"/10cm stockinette.
Pattern Notes
Juju is knit at a very tight gauge to hold in the stuffiing.
Directions
Head:
Provisionally cast on 36 sts in a smooth yarn onto DPNS. Switch to main yarn and knit in the round 20 rounds.
Shoulders:
K 9,pm, m1, k18, pm, m1,finish round.

Increase one stitch after each marker every other round 4 times.

Next round, k9, slip11 sts to holder or waste yarn, knit to next marker, slip 11 sts to another holder or waste yarn, finish round. (24 sts remain)
Torso:
Next round, m1 after each marker.

Increase 1 st after each marker every other round 3 times
Legs:
Divide sts into 2 sets of 16 so that the split places the legs squarely below the shoulders. Place one leg on a holder, divide the other 16 sts on the DPNs.

Knit first and last stitch of leg together to join the round, knit 20 rounds.

Rounds 21 and 22: K2tog around.

Break yarn, run through remaining stitches twice and leave tail inside the body.

Repeat for the other leg.
Arms:
Place 11 arm sts on DPNs. Knit the first and last sts together to join the round. Knit 12 rounds.

Rounds 13 and 14: k2tog around.

Break yarn, run through remaining sts twice and leave tail inside the body.

Repeat for other arm.
Finishing the Body:
Sew up any gusset holes.

Stuff body firmly. Stuff torso and head last, leaving a slightly less packed gap where the neck will be.
Finishing the Head:
Undo the provisional cast on. Rip back 5 rounds and place the stitches back on DPNS.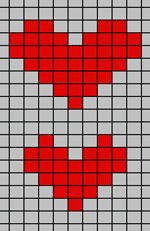 K2tog around until 5 sts rem on needles. Break yarn and run through the rem sts twice. Leave tail inside the body.

Using roughly 18 inches of main yarn, wrap tightly around the neck. Knot and secure ends.
Absolutely the Last Finishing:
Cross stitch heart onto chest in red. Embroider eyes and mouth in white.
About