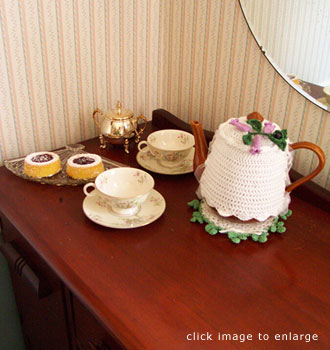 Toxic Tea Set
And how, you ask, can drinking tea be dangerous? With symbolism, of course. Unless your pot, like ours, is filled with Long Island Iced Tea rather than the steeped tea leaf kind.

The dainty tea cosy is ornamented with flowers and berries of Belladonna, otherwise known (with very good reason) as Deadly Nightshade. The table mat illustrates the well-known principle "leaves of three, let it be!" This is the classic reminder to beware of poison ivy, poison oak, poison sumac. When a plant has three leaves, do not touch. It is dangerous!

The tea cosy and table mat are crocheted from a size 3 acrylic or cotton thread. I used acrylic because my source was barren of any bright white cotton in an appropriate thread. Based on that experience (which made me dangerously angry at times), I heartily recommend using cotton because it is faster and easier to crochet.
Difficulty
Loose Woman
Click here for definitions of difficulty levels.
Finished Measurements
Cosy: ~7" tall (can be made taller), ~6" in diameter
Mat: ~6" in diameter
Materials
Crochet thread, cotton or acrylic, about size 3, two balls of white and one of green. (example uses Royale Silkessence Microfiber from J.P. Coats, available at Michaels)
Size D (3.25mm) crochet hook
DMC Perle cotton, size 5, one ball each of lavender and green, (for the blossoms and leaves)
Steel crochet hooks, sizes 3 (2mm) and 5 (1.75mm)
Beads (amount depends on how many belladona berries you make; example uses Elite Better Beads purple glass beads from Michaels; the code on the back was BB3794-65, but that may be only a Michaels number)
Floral wire and tape
2 yds narrow ribbon or gauze ribbon, white or green
Wire cutters or old scissors you really do not care about
Optional: Fine tulle and potpourri to fill the mat.
Abbreviations
Ch chain
Sc single crochet US (same as double crochet UK)
Dc double crochet US (same as treble crochet UK)
Hdc half double crochet US (same as half treble crochet UK)
Trc tripple crochet US (same as double treble crochet UK)
() parentheses indicate a section to be repeated
Directions
Table Mat Body:
1: Ch 6, join with a slip stitch to form a ring. Ch 3.

2: Counting the chain 3 as the first dc, work 11 additional dc into the ring. Join with a slip st in the top of the chain three. Ch 3.

3: Counting the chain 3 as the first double crochet, work 2 dc in each dc around. 24 dc in all. Join with a slip st in the top of the chain three. Ch 3.

4: As Round 3, working work (1 dc in next dc, 2 dc in next dc) around. Ch 4.

5: Counting chain 4 as (dc, ch 1), work (dc, ch1) in each dc around. Join with a slip st in the third chain of the chain 4. [You should have 36 dc and 36 chain 1 spaces.]

6: Slip st in first space, ch 1, sc in same space. Ch 3, sc in next space around. Last loop: chain 1, hdc in first sc.

7: (Chain 3, sc in next loop), repeat around; end as round 6.

8: Through Round 11, repeat Round 7.

End off. Make second mat to match.
Table Mat Edging:
Join with green in any loop.

Work 3 sc in this loop and the next loop.

In next loop, 2 sc, ch 1; in ch1, (work sc, hdc, 3 dc, hdc, sc; ch 1). Repeat work in brackets 2 times; slip stitch to second sc in loop. Repeat around the edge, with two loops with 3 sc each between leaf motifs.

Join. End off.
Table Mat Filler:
If you choose to make a potpourri liner, cut 4 circles of fine tulle slightly smaller than the doilies. Sew around the circle with white crochet cotton using a blunt needle and backstitch or running stitch, working closely so the potpourri doesn't leak. Fill gently with a little potpourri, and finish stitching.

Sandwich this filler between the two doilies and lace together through the outer rounds of loops with narrow fine ribbon or gauze ribbon to match the tea cosy. Save any extra ribbon for later in the project.

You will notice there are only twelve Leaves of Three. You might consider making a thirteenth to up the ante a trifle.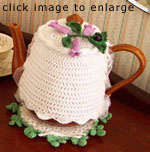 Lace-up Tea Cosy:
1: Work 24 sc in ring, counting chain 3 as first sc. Join with a slip stitch to top of ch 3.

2: Work continuing rounds of dc, increasing 12 stitches evenly spaced in each round, until the circle is large enough for your teapot, most likely at 72 or 84 stitches.

3: Work in rows of dc over HALF the stitches in the circle, until the side panel is long enough for your teapot. Do the same thing on the other side. My teapot fortuitously required 13 rows. My delight was intense!

4: Optional: Shell edgings for added pretty. Each shell requires 6 stitches when working in the round, so they should fit perfectly around the circle top of the cozy. Working in the same row as the beginning of the side panels, work (6 dc in next stitch, skip 2 sts, sc in next st, skip next two sts) around the round. You will most likely have 12 or 14 shells.

5: For the bottom edges, you will need a multiple of 6 plus one stitch or a willingness to fudge. Adjust in the last row of the panel and work the edging as given above, beginning and ending with a sc in the first and last sts of the row

6: Cut appropriate lengths of gauze ribbon and lace the panels on your cozy while it is on your teapot. Tie fluffy bows.
Belladonna Decorations:
Berries are purple beads with a crocheted base made with the #5 steel hook. With green perle cotton, leaving a 6 inch tail, ch 6, join with a slip st to form a ring. Ch 3, work 11 more dc in ring, join with a slip stitch to the top of the chain 3.

Ch 1, sc in same space.

(Sc, dc, ch 1, ss in top of dc, sc) in next stitch; sc in next stitch. Work around and end off.

Use the tail to secure the bead and encourage the base to cozy up to the bead.

Make a couple more.

Blossoms rare crocheted from lavender, using the #5 steel hook. Leaving a 6 inch tail, chain 6, join with a slip stitch to form a ring. Chain 1, work 6 sc in ring. Do not join.

Work 2 sc in each sc until you have 12 stitches. Continue in a spiral of sc [do not join rounds, just keep going] until your blossom is between ¾ and 1 inch long. Decrease 2 sts evenly spaced.

Work tip of petals by working sc in the next space and in the following space (dc, ch 3, ss in top of dc, ch 2). Repeat around alternating material in brackets with sc, until there are 5 defined petal tips. Join and end off.

Make a couple more. They are supposed to be natural, so they do NOT have to match precisely. Variation is actually more attractive.

Leaves are done with green and #3 steel hook. Cha 16. Turn and work back along the chain in a progression if increasingly tall stitches, thusly: ss, sc, hdc, dc, trc (2 or 3 trc), then work in reverse with decreasingly short stitches, thusly: dc, hdc, sc, ss. Chain 2 at the end and repeat up the opposite side of the leaf. End off leaving a tail for assembly.

Make several leaves to suit your own fancy, varying the number of each sort of stitch if you please.

Assembly:
You may stitch leaves, flowers, and berries directly onto your tea cosy, or you may assemble them with floral wire and tape into boutonnieres and wind them round the handle of the tea pot.
About