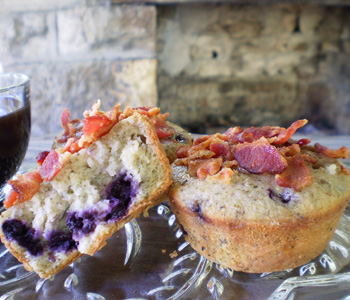 Melankalia Stambaugh (photo)
Bait and Switch
Breakfast sucks. It's godawful daylight and you are all sleepy, grouchy, and pissed off. (Oh, maybe that's just me? Whatever.) In any case, right at that moment the very last thing you want to do is make an actual meal. So, behold all the breakfasty goodness in one convenient thingy. Eat a muffin, damn it.... I'm going back to bed.
Suggested Listening
"Cup of Brown Joy" by Elemental
Difficulty
Bottle Short of a Six Pack
Click here for definitions of difficulty levels.
Download
Sorry, no downloadable recipe PDFs for this issue.
Ingredients
U.S.
Metric
Ingredient
1 1/2 c
150 g
all purpose flour
1 c
100 g
finely ground toasted oat bran
5
green tea bags, divided
(approx. 5 tsp/15 g loose tea)
1/2 tsp
3 g
salt
2 tsp
9 g
baking powder
1/2 c
100 g
granulated sugar
2/3 c
150 g
butter, softened
1 tsp
5 ml
vanilla extract
2
large eggs
1 c
235 ml
buttermilk
1/4 c
60 ml
orange juice
1 1/4 c
175 g
frozen wild blueberries
1 Tbsp
10 g
flaxseed (optional)
1/4 c
60 ml
mesquite honey
10
bacon strips (rashers), fried crispy and crumbled
You Will Also Need
Muffin tins
Hand or stand mixer
Microwave
Pastry brush
Chef's Notes
Rebecca adds: If you do not have buttermilk on hand because you think you will not use it quickly enough, it is available in powdered form. But even better than that is culturing regular milk into buttermilk yourself, and itís very easy. Put a tablespoon of either white vinegar or lemon juice in a 1 c/237 ml liquid measuring cup, then fill to the 1 c/237 ml line with whole or low-fat milk. Let it sit for five minutes. Tada! Buttermilk.

The AntiCraft assumes any well stocked kitchen to have certain things on hand. (Click for our basic kitchen items list)

Yields 18 muffins.
Directions
Heat oven to 375°F/190°C/Gas Mark 5, and lightly grease and flour 18 muffin cups.

Place the flour, oat bran, the contents of 4 bags of the green tea (4 tsp/12g loose tea), salt, and baking powder in a medium bowl; whisk gently to combine. Set aside.

In the bowl of a mixer combine the butter and sugar. Beat at high speed until fluffy; approximately 3 minutes. Add the vanilla and the eggs one at a time, beating well after each. At this point the mixture should more closely resemble buttercream icing than cake batter.

Turn the mixer to its lowest speed, and add the dry mixture, alternating with the buttermilk and orange juice (beginning and ending with the dry mixture). Beat just until combined. Fold in the blueberries, and if you are using it, the flax seed. Immediately spoon into muffin tins until each cup is slightly more than three quarters full.

Bake 15 to 20 minutes, or until muffins test done. Place pans on wire racks and leave until cool.

In the meantime, make the glaze. Pour the honey into a small microwave safe bowl (or mug) and smoosh the remaining tea bag into it until completely submerged. (If you are using loose tea, you'll need to contain 1 tsp/3 g of it in a microwave-safe infuser, like a small muslin bag or those fillable teabags you can buy.) Nuke 45 seconds, cover and let sit 5 minutes. Carefully remove tea bag and set honey aside until slightly less molten.

Before serving, brush the muffins with the glaze and sprinkle with bacon.
About
contact Melankalia: • legal info