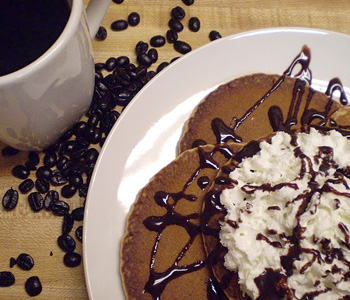 Carin Huber (photo)
Java Jacks
"Sometimes a hot cup of French Roast Amaretto is just what a man needs to get him through the day. That smooth aroma and mild taste is what makes Tweek Coffee so very special. Special, like an Arizona sunrise or a juniper wet with dew. A light rain in the middle of a dusty afternoon, or a hug from your dear old aunt-"

"Dad! The metaphors, man!"

"Oh, sorry."

Serve these coffee flavored pancakes topped with whipped cream for a sweet breakfast, or decaffeinated and a la mode for dessert. Use your imagination for other toppings. Maybe chocolate syrup, for Mocha Jacks?
Suggested Viewing
"Gnomes" South Park (1997 - present)
Difficulty
Rrrrgh . . . . Burns . . . .
Click here for definitions of difficulty levels.
Download
Sorry, no downloadable recipe PDFs for this issue.
Ingredients
U.S.
Metric
Ingredient
1 c
237 ml
sweetened condensed milk
(a single 14 oz/ 397 g can will be more than enough)
1 c
237 ml
strong brewed coffee, cooled
2
eggs, beaten
1/3 c
79 ml
vegetable oil
2 c
200 g
all purpose flour
1 Tbsp
14 g
baking powder
1 tsp
6 g
salt
You Will Also Need
Flour sifter
Nonstick skillet or griddle
Chef's Notes
You'll notice that there is no sugar in the ingredients list. The sweetened condensed milk provides plenty of sweetness by itself. If you don't have sweetened condensed milk, you can substitute evaporated milk, and add 1/2 c/100 g of sugar and an additional 1/4 c/50 g of flour to the dry ingredients.

The stronger your coffee is, the better the flavor of your pancakes will be.

Watch your pancakes carefully while they're cooking. They burn easily.

Be sparing with richly flavored toppings. They can easily overpower the coffee flavor of the pancakes.

If you don't have a flour sifter, you probably can get by just gently "fluffing" the dry ingredients with a fork or wire whisk. A wire mesh colander works in a pinch, too.

The AntiCraft assumes any well stocked kitchen to have certain things on hand. (Click for our basic kitchen items list)

Makes about sixteen 5"/13cm pancakes.
Directions
Combine the sweetened condensed milk and the coffee in a large mixing bowl. Whisk well until there are no sticky globs of sweetened condensed milk left unblended. Add the beaten eggs and vegetable oil, and whisk smooth again.

In a separate bowl, sift together the flour, baking powder, and salt. Add the dry ingredients into the liquid ingredients, combine to a smooth batter.

Drop batter by the quarter cupful (about 60 ml) onto a hot ungreased griddle or skillet. When bubbles start to form and pop around the edges of the cakes, flip them over to brown for about 30 seconds on the other side.

Stack cooked Java Jacks on a platter between layers of clean tea towels and keep in a warm oven until ready to serve.
About
contact Carin: • legal info