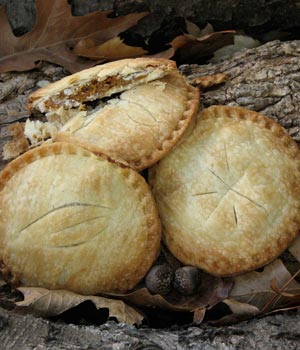 Zabet Stewart (photo)

Pumpkin Pasties
If you enjoy kidnapping and torturing your own pumpkin every year, just remember it's only good manners to eat the dead afterwards.
Suggested Reading
The Harry Potter Oeuvre
by J. K. Rowling
Difficulty
Rrrrgh . . . . Brains . . . .
Click here for definitions of difficulty levels.
Ingredients
1 29 oz. can of pumpkin
1 14 oz. can of sweetened condensed milk
1/2 cup minced non-crystalized, candied ginger
2 tsp. cinnamon
1 tsp. ground cloves
1 tsp. nutmeg
2 boxes pre-packaged rolled pie crust (in the refrigerated section of your grocery)
Directions
Using a wire sieve, drain the canned pumpkin over a bowl for about thirty minutes. This will remove approximately 1 cup of liquid from the pumpkin and make the filling more dense. While this is draining, mince the ginger into fine pieces.

Preheat oven to 400°F.

In another bowl, mix together the pumpkin, condensed milk, ginger, cinnamon, cloves, and nutmeg. Stir until thoroughly mixed and set aside.

Unroll the pie crust on a nonstick surface and use a rolling pin to thin it out to almost a 12" diameter. Using your 3 1/2" round cutter, cut circles from the pie crust and lay them out on a baking sheet with 1" of space in between the circles. Combine the crust scraps together from the first cutting, re-roll to a similar thickness, and re-cut to create the tops of the pasties. Set aside.

Fill a piping bag with the pumpkin filling, and squeeze the filling onto the crust circle, leaving a 1/2" border at the edge for crimping. Moisten this edge with water, lay the reserved circle on top of the filling, and crimp the edges together with a fork. Repeat until the pan is complete.

Use a knife and make small slices into the top crust to allow steam to escape while baking. You can use any decorative design that you wish and have the patience to create.

Bake the pasties for 20 minutes or until they are golden brown.

Repeat this process until you have used all yours crust and filling. This recipe makes about 30 pasties.
About