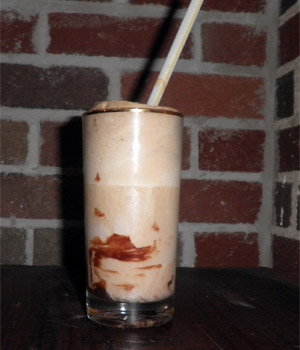 Dicey Garber (photo)
Brainfreeze Tribute
One night, when I was feeling kind of low, I decided to have a little alcoholic perk-me-up. It was hot, so I dug around in the freezer for some ice cream, looked in my alcohol cupbord and found ...lots of things, and came up with a fantastic ice cream concoction. Unfortunately, I didn't record exactly how I made it, so this concoction—almost as good—is its tribute. Oh, man, you should have had the real thing, though. That one was really fucking good.
Suggested Listening
"Tribute" Tenacious D by Tenacious D
Difficulty
Pint
Click here for definitions of difficulty levels.
Download
Full page recipe (pdf format)
3x5 card recipe (pdf format)
Ingredients
U.S.
Metric
Ingredient
2 generous scoops
coffee flavored ice cream
3 oz
90 ml
Jameson® Irish whiskey
1/2 oz
15 ml
chocolate syrup
1 1/2 oz
45 ml
Cruzan® Aged Light rum
8 oz
237 ml
Coca-Cola®
You Will Also Need
drinking straw (bonus points for using a crazy straw)
long-handled spoon
Bartender's Notes
NB: shot sizes vary internationally, so we will use ounces and milliliters. In the U.S., a shot equals 1.5 ounces.

Makes one serving.

The AntiCraft assumes any well stocked bar to have certain things on hand. (Click for our basic bar accoutrements list.)
Directions
Put ice cream in a nice large glass and drizzle it with whiskey and chocolate syrup.
In another glass or measuring cup, mix rum and Coke, and gently pour over your ice cream, allowing it to fizz and rise to the top.
Enjoy with a straw and a spoon.
About
contact Dicey: • legal info