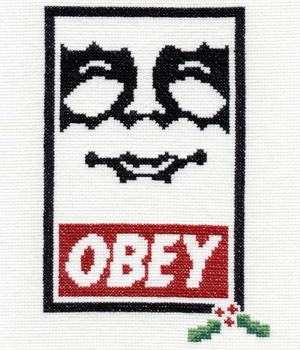 Helen Apocalypse (kickass stitching & photo)
Obey Santa
He keeps a list.
He checks it twice.
Obey Santa
Or pay the price.
Suggested Watching
"The Most Horrible Xmas Ever" Invader Zim (2001-2002)
Difficulty
Rrrrgh . . . . Brains . . . .
Click here for definitions of difficulty levels.
Download
Obey Santa Chart (pdf format)
Finished Measurements
approx 5"/13cm W x 7"/18cm H
Materials
14 count Aida cloth
DMC embroidery floss in:
Anchor embroidery floss in:

777 (light green)
776 (dark green)

Appropriate embroidery needle
Embroidery hoop or frame
Design Notes
Don't know how to do a certain stitch? Check out the Glossary of Techniques.

Need help choosing a needle? Read this guide.
Directions
Download Obey Santa chart, above.
Mark the beginning of the design on your aida cloth. Leave enough space at the border for framing, if desired.
Place the aida cloth in your embroidery hoop or frame.
With blunt cross stitch needle, start stitching with cross stitches, switching colors according to the chart.
When you're done, hand wash it gently in cold water and iron flat, then use it to terrorize children.
About
contact Zabet: • legal info