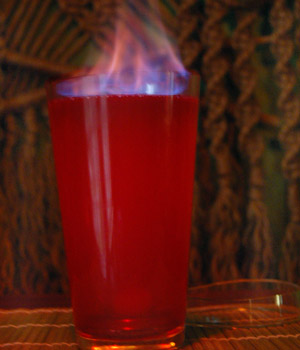 Robyn Wade (photo)
Virgin Sacrifice
The perfect ritual for celebrating your first time.

Hey now, don't make it dirty. You're such a perv!

I was thinking about the first time I went to see Rocky Horror!
Suggested Listening
"Feels Like the First Time" Foreigner
by Foreigner
Difficulty
Burnin' Bacon
Click here for definitions of difficulty levels.
Download
Full page recipe (pdf format)
3x5 card recipe (pdf format)
Ingredients
U.S.
Metric
Ingredient
8 - 10 oz
240 - 300 ml
tropical fruit juice blend
1/2 oz
15 ml
Bacardi® 151
1 1/2 oz
45 ml
Bacardi® Dragon Berry
1
maraschino cherry
You Will Also Need
long fireplace matches or a long-handled grill lighter
fire extinguisher on premises
Bartender's Notes
The amount of juice used will depend upon the size of your pint glass. 16 oz American pints should use 8 oz of juice; 20 oz Imperial pints should use 10 oz of juice. We used Hawaiian Punch® in the photo, which is a tropical fruit drink that is red in color and low in actual fruit content. This caused problems getting the 151 to float easily, because the punch was the same density as the rum. A real fruit juice will work better.

Special Bartending Skill:
Making Layered Drinks—This video will explain how to float the 151 on top of the juice.

NB: shot sizes vary internationally, so we will use ounces and milliliters. In the U.S., a shot equals 1.5 ounces.

Makes one serving.

The AntiCraft assumes any well stocked bar to have certain things on hand. (Click for our basic bar accoutrement list.)
Directions
Pour fruit juice into a pint glass. It it very important to only fill the pint glass halfway.
Float a layer of Bacardi® 151 on top of the juice.
Pour the Bacardi® Dragon Berry into a shotglass.
Carefully light the Bacardi® 151.
Now, with great showmanship, drop the maraschino cherry into the shotglass and gently drop them both into the pint glass. (This is why it's so important not to overfill the glass. The Bacardi® 151 will burn even if it splashes out of the glass and you could be injured.)
Let everyone ooh and ah over the lightshow, but not too long or else you can break your pint glass. Blow out the flames and consume!
About
contact Anthony: • legal info