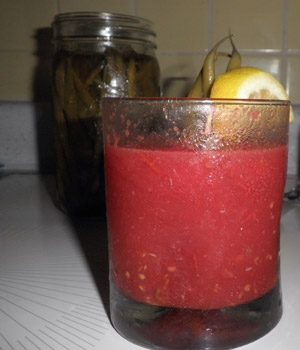 Dicey Garber (photo)
Pickled
Sometimes, we AntiCrafters do things just to prove to ourselves that we can do it better than anybody else. I wanted to make the best Bloody Mary ever, so I did. Now you can, too.
Suggested Reading
Imbibe!: From Absinthe Cocktail to Whiskey Smash, a Salute in Stories and Drinks to "Professor" Jerry Thomas, Pioneer of the American Bar. Featuring the Original Formulae for 100 Classic American Drinks and a Selection of New Drinks Contributed in His Honor by the Leading Mixologists of Our Time
by David Wondrich
Difficulty
Bottle Short of a Six Pack
Click here for definitions of difficulty levels.
Download
Full page recipe (pdf format)
3x5 card recipe (pdf format)
Pickle Ingredients
U.S.
Metric
Ingredient
3
garlic cloves, peeled and sliced lengthwise
1 Tbsp
3 g
dill, dried
1 c and 3 Tbsp
236ml and 44 ml
vodka, divided
2 Tbsp
36 g
coarse salt
1 lb
.45 kg
fresh green beans, as long and straight as you can find, cleaned and ends trimmed
1/2 c
118 ml
water
1/2 c
118 ml
white vinegar
1/2 c
118 ml
white wine vinegar
Bloody Mary Ingredients
U.S.
Metric
Ingredient
7 oz
200 g
fresh tomatoes, processed with an immersion blender or food processor until no chunks remain
1/4 tsp
1.2 ml
Worcestershire sauce
1/4 tsp
1.2 g
horseradish, ground, packed firmly
1/2 tsp
5 g
salt
1/4 tsp
1.2 ml
fresh lemon juice
1/4 tsp
1.2 ml
Tabasco® chipotle sauce
garnish
lemon, cut into wedges
garnish
green bean pickles
You Will Also Need
one 1-quart canning jar, with lid and ring
Chef/Bartender's Notes
NB: shot sizes vary internationally, so we will use ounces and milliliters. In the U.S., a shot equals 1.5 ounces.

This recipe makes 1 quart of pickles. Each Bloody Mary is mixed in the glass so you can make as many as you like.

The AntiCraft assumes any well stocked kitchen and bar to have certain things on hand. (Click for our basic kitchen items list) and click for our basic bar accoutrements list)
Directions
Make the Pickles:
Put garlic, dill, 3 Tbsp vodka, and salt in the canning jar. Next, stack the beans in neatly, lining them up lengthwise. In a saucepan, heat remaining vodka and vinegars just to boiling. Pour vodka-vinegar mix into the jar and close with lid and ring. Refrigerate for 8 hours or more before using.
Make the Drink:
Pour tomatoes into a large highball glass. Add remaining ingredients one at a time, stirring gently between each one. Garnish with a lemon wedge and 2 or 3 pickled green beans.
About
contact Dicey: • legal info